MAKE YOUR
EXISTING

GARAGE

SMART
By adding Nexx Smart Garage to your existing garage opener, a world of easy-to-use high-tech smart features are at your fingertips.
REMINDERS
Have you ever left your house and wondered if you left your garage door open?
Then have to drive back to make sure.
Never again with Nexx Smart Garage. Now if you forget, Nexx Smart Garage will remind you. There is even a handy snooze feature for situations where you leave the garage open on purpose.
VOICE NOTIFICATIONS
Even if you aren't looking at your phone, Nexx will notify you through voice announcements.
Happy Wife...
The wife is happy and that's the most important. Other than working great, love the notifications & reminders. You can add users, grant & remove features & privileges. Love it...
Works exactly as advertised.
I bought two of these, one for a 2-car garage door and one for a 1-car garage door. I also have a Nexx controller for my driveway gate opener. All three work flawlessly, as advertised, and are controlled easily by the app. 100% would recommend.
Great product
I installed my new garage door controller and I absolutely love it. Just this morning, I left home and forgot to close my garage door. The app sent me a notification and I was able to close my door from my office.
JUST DRIVE

(beta)
Automatically open your garage when you drive near your home.
Awesome handsfree experience!
Functionality is dependent on the user's phone system, WiFi network, and individual settings.
USE THE MOST
CONVENIENT

METHOD FOR YOU

With Nexx Garage you will extend your existing garage door opener capabilities by making it smart, so you can have many more ways of control - by tapping, by speaking, and by driving.

Nexx Garage works along your existing remote and wall button.
JUST TAP.
JUST SPEAK.
JUST DRIVE.
CONTROL

FROM ANYWHERE, ANYTIME

Go anywhere at any time and be in total control and able to rest assured.
SHARE

– GIVE ACCESS TO OTHERS

Easily share with friends, family members, the dog sitter, cleaning service, and more. The app also includes an industry-leading usage log so that you'll always know who is coming or going. It's quick, simple, and safe.
KNOW
WHO

AND

WHEN

ACTIVATED YOUR GARAGE
SCHEDULE


AUTOMATE OPENING AND CLOSING TO FIT YOUR LIFESTYLE

Create multiple schedules to automatically arm and disarm at a certain date and time. It can also be setup to repeat everyday, like arming at 11PM and disarming at 7AM.
VOICE CONTROL
Open, close, or monitor using Amazon Alexa, Google Assistant, or Apple Siri.
* Routines are not available due to Amazon Restrictions.
"Hey Google, arm house alarm."
"Alexa, arm house alarm."
"Hey Siri, disable house alarm."
US-BASED CLOUD SERVERS
We value your privacy.
All Nexx products are protected with the latest encryption technology running on US-based cloud servers and backed by an American company. Nexx Home App is developed by our US engineers and is updated regularly to conform with the latest security standards for IoT devices.
ADAPTABLE
NEXX GARAGE WORKS THE WAY YOU WANT TO LIVE
Nexx Smart Garage works in so many ways, enabling you to choose which way is best fit for you.
MORE

control.
MORE

convenience.
MORE

peace of mind.
Upgraded WiFi capabilities
New Bluetooth connectivity
Streamlined installation in 10 minutes or less
Cool new accessories coming soon!
90-Day Money Back Guarantee
Purchases from Nexx website comes with a 90 days return period. We know you'll love Nexx products, but if you're not completely satisfied, return for a full refund.
1-Year Warranty
12-month limited parts and labor warranty with easy postage-paid return and replacement.
Fantastic Customer Support
We are here before, during, and after the sale with a dedicated customer support team and extensive support hours.
EASY

TO INSTALL &

SIMPLE

TO USE

With Nexx Smart Garage you can automate your existing garage door opener in 10 minutes or less.
Benefits of NXG-300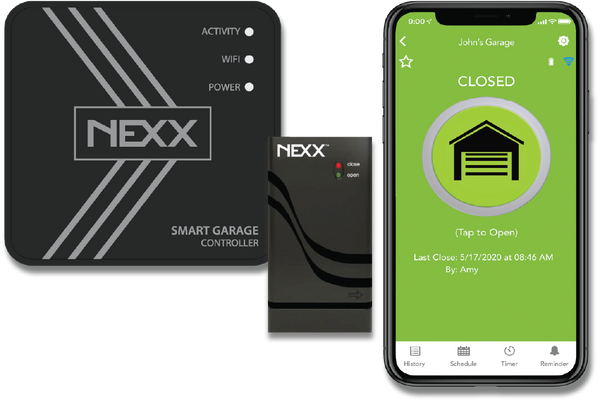 Upgraded WiFi Capabilities

Stronger, more reliable WiFi connection

New Bluetooth Connectivity

Greater control and convenience with NEW Bluetooth activation

Streamlined Installation

Install in 10 minutes or less with our new wireless sensor

(optional wired sensor, not included)
Technical Specifications
Requirements

2.4GHz wireless network: guide

Compatible garage door opener: check here

1x1 - One Nexx Garage controller per garage

Wireless sensor detects up/down motion only. To use NXG-300 with gates, wired sensor is required.

Features

Remote Control

Voice Control*

Notifications

Reminders

History

Share

Schedules

Best in Class Security Encryption

Works With

iOS

Android

Bluetooth

Amazon Alexa

Google Home

Siri

SmartThings

IFTTT

Specification

Dimensions: 2.75 x 2.75 x 1 inches

Weight: 8.2 ounces

Electrical Current: AC100~240V 50/60Hz

Plug Type: US

Connectivity: 802.11 b/g/n Wi-Fi connection @ 2.4GHz

Warranty: 1-year

Weather-resistant: NO

Box Includes

NXG-300 Controller

Wireless Sensor

Battery

Stickers

Power Adapter

Manual

Specification

Let your customers know what details set your product apart from the competition.
Total Garbage
Bought the unit in 2020 as an upgrade from last wired one. Unfortunately I've had nothing but issues with the sensor. The one that came with it didn't work and would not turn on even after new batteries were installed so they sent a replacement. After about 6 months the 2nd sensor unit stopped working and now it's out of warranty and they won't replace. Last time I purchase from this company! So many other better and more reliable options available. Will be posting this on multiple sites.
The alarm controller did not work with my alarm and having trouble with the Nexx outlet to connect with my Wi-Fi.
Great product
Used for a Gate controller. Works perfectly good range to gate.
Excellent device
I love this thing so much! Makes my life easier and safer. Super easy to use.
15 minute fix
Quick / Easy way to solve problem of old/broken garage door openers. Plus adds ability to use/monitor your garage door with your mobile phone.